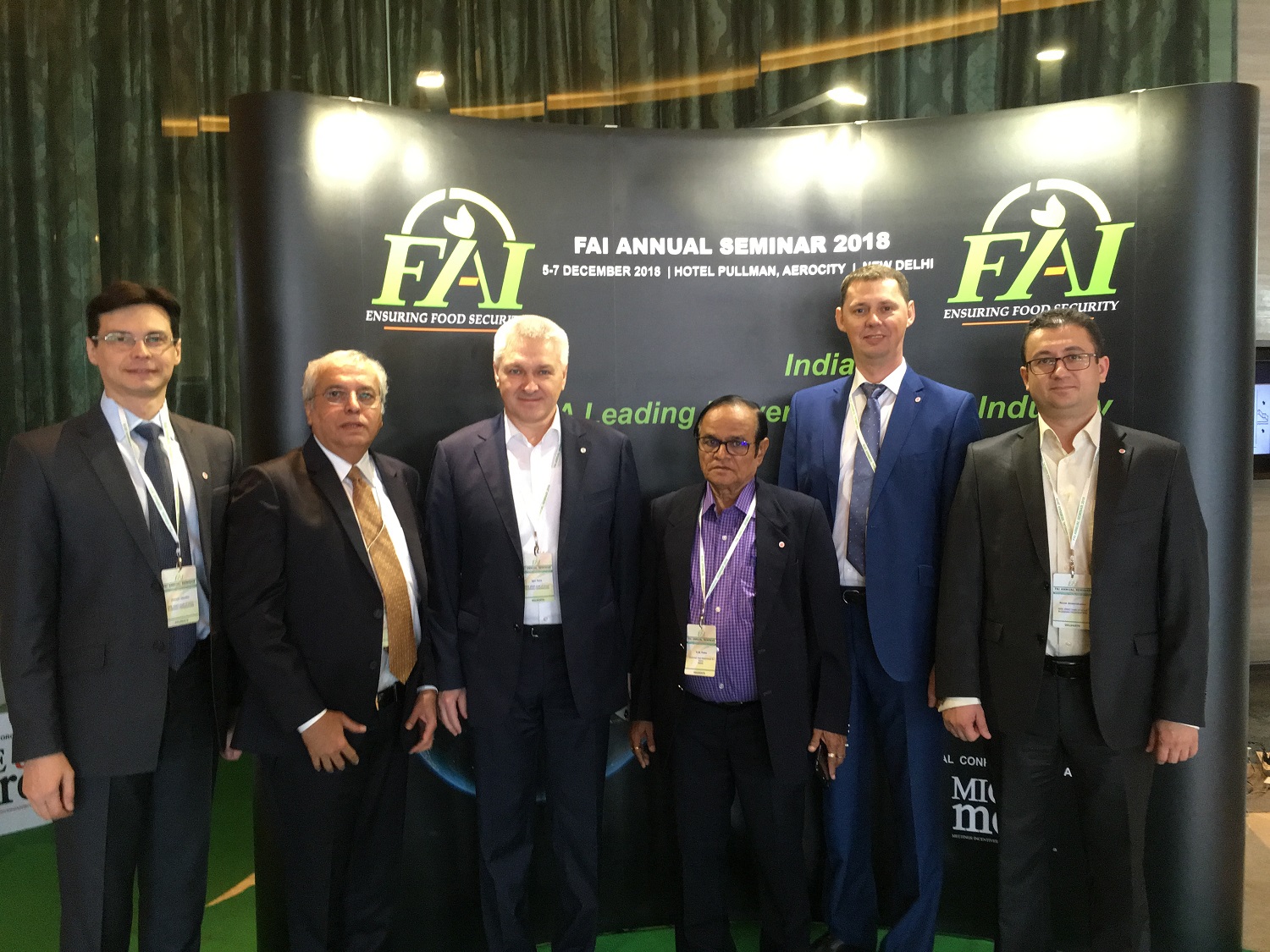 14.12.2018
On December 5-7th, 2018, NIIK team headed by President and CEO Igor Esin attended FAI Annual Seminar 2018 held in New Delhi, India
The FAI Annual Seminar has traditionally been the main event of the year for the entire fertilizer industry in India. This time, more than 1,200 participants from 25 countries in South Asia,
Middle East, Europe, USA, Canada and Australia took part in the seminar. The following members joined NIIK's team: Chairman of the Board Igor Esin, Deputy Director for Science Nikolai Lobanov, Head of Process Department Rinat Anderzhanov, Project leader Dmitry Obedin.
The key topic of the seminar agenda was a discussion of the ways how to increase efficiency and dynamics of fertilizer production. Traditionally the Seminar was opened with a word of Minister of Chemicals and Fertilizers of Government of India. In his speech the Minister highlighted the key targets set by the industry. Among others, it is enhancement of domestic production, introducing of new capacities and increasing of capacities of existing plants. At the same time, the industry shall endeavor to sustain high level of energy efficiency. In this regard, throughout several years the Government of India implements the Energy Cost Reduction Program in the field of urea production until the year 2020. Through this program the most effective Indian companies receive subsidies from the state.
Since NIIK today is a recognized leader in the implementation of energy-efficient engineering solutions, we are proud to note the high interest in cooperation with our company on the part of Indian manufacturers. Successful operation of the sets of internal devices by NIIK installed in the synthesis reactors at the largest plants in India such as Rashtriya Chemicals & Fertilizers, Gujarat Narmada Valley Fertilizers, Nagarjuna Fertilizers and Chemicals leaves no doubt about the economic feasibility of using NIIK's technologies.
During the negotiations with the NIIK's delegation, one of the Indian companies has already confirmed its intention to conclude a contract for the supply of two sets of internal devices for urea synthesis reactor, each including vortex mixer and conversion booster. A number of other manufacturers are now planning to start cooperation with NIIK in the nearest future.
Besides that the NIIK's delegation held series of meetings with Indian engineering companies, manufacturers and equipment suppliers, who also expressed willingness to work on joint projects with our company.
The FAI seminar once again became a good platform for discussing existing projects of NIIK in India at the level of top management of the companies, exchanging views on further development of business and agreeing plans for the future.
In conclusion it should be noted that NIIK having become a worldwide identifiable brand in the nitrogen industry attracts rightly and successfully attention of international companies ready to build strong relationships based on fruitful and long-term cooperation in the nearest future. Considering a high human and technical potential of NIIK, we, as an international company, have all the opportunities to press the leading licensors on the world market of engineering services in the field of the nitrogen industry in the quite foreseeable future.