Quality management system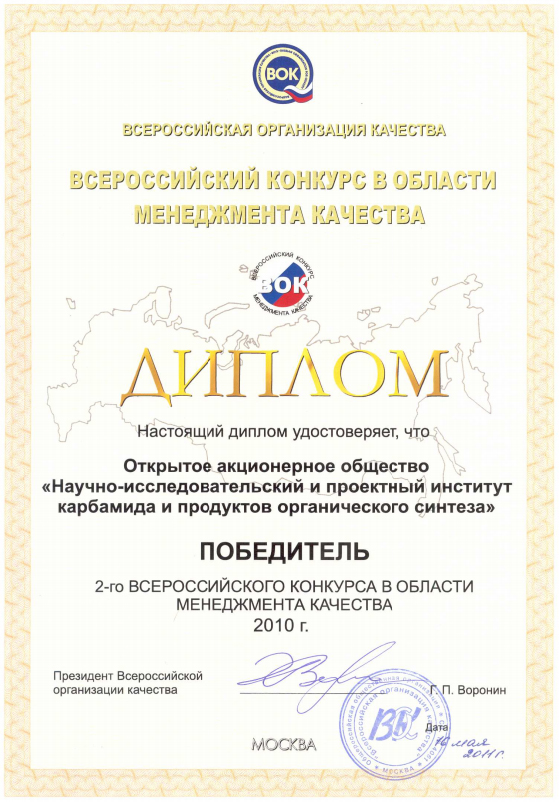 The primary objective is to understand and meet the Customer´s requirements when supplying engineering services. For this purpose NIIK applies an effective Quality Management System in compliance with the requirements of the international Standard ISO 9001. Each department of the Company is directly responsible for the workmanlike performance of its duty and the quality characteristics. The system shall secure the continually improved effectiveness of the Company´s processes.
Quality management system is certified by certification authorities of the "Certification body of the integrated management systems "SOYUZSERT" and complies with the requirements of GOST ISO 9001-2011 (ISO 9001:2008). Certificate of Conformity № РОСС RU. ФК15.К00115 dated 18.06.2013. The inspection audit is performed every year by certificate authority in order to ensure its effectiveness and continued compliance to ISO 9001:2008.
NIIK is a winner of the Second all -russian Quality Management Contest 2010.
General Director and Quality Manager of NIIK were awarded the title of Russian Leader of quality
General Director of NIIK is a member of The Chartered Quality Institute (London) founded in 1919 and being a not-for-profit organization - leading professional body for the advancement of quality practices.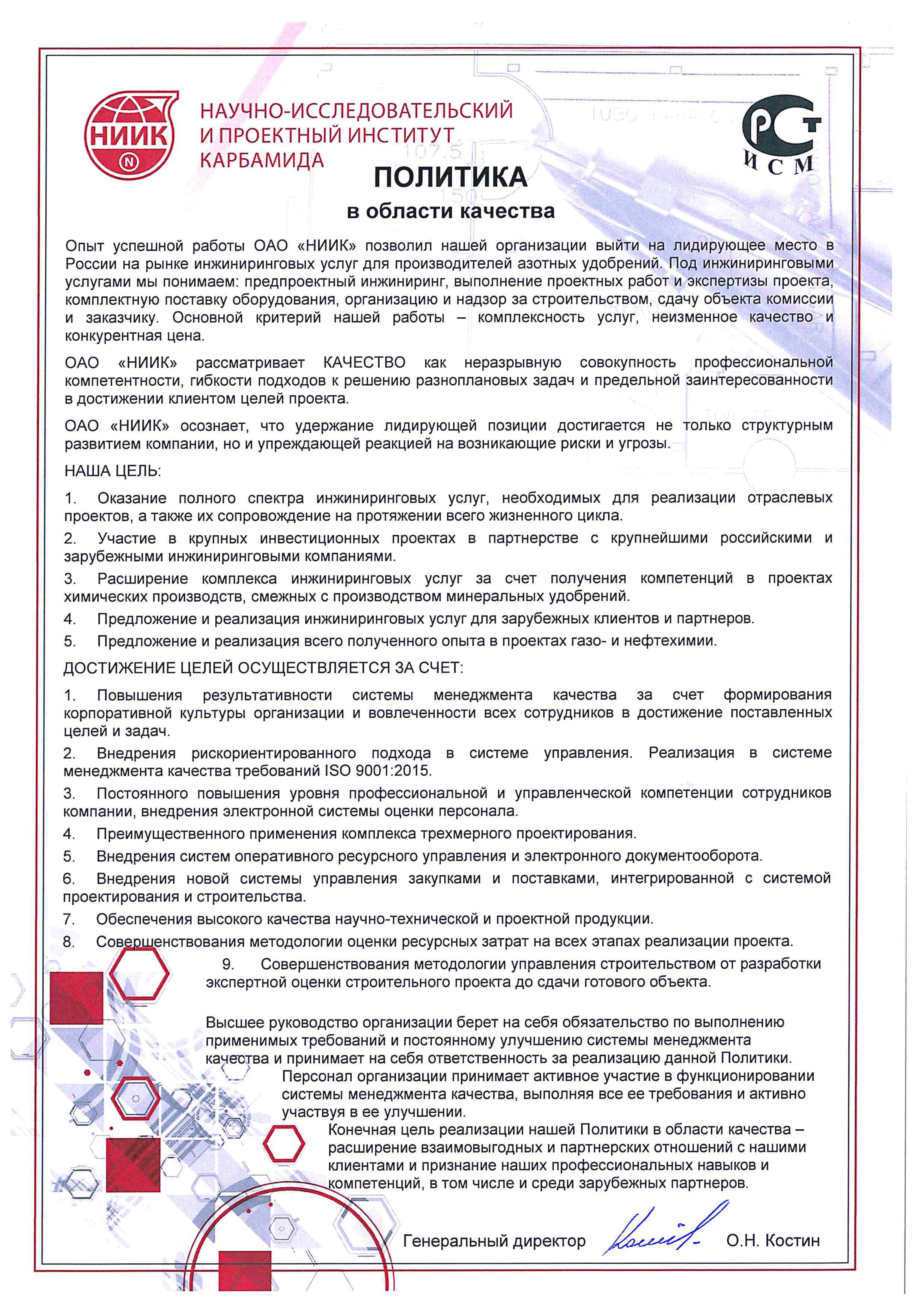 Quality policy
NIIK's goal is to provide products and services that fully satisfy customer, industry and statutory and regulatory requirements. Thus, NIIK management is committed to creating and continuously improving conditions in order to guarantee high-quality products and services. Their commitment to the quality management system is ensured by established corporate quality policy communicated and implemented at all levels of the organization.
NIIK´ s quality management system
The basis for the successful position of NIIK is application of methodology of processing approach and a concept of achieving the highest quality in all company processes.
QS is an integral part of our overall business management strategy to be addressed in conjunction with other business considerations.
To facilitate the smooth functioning of quality assurance activities 28 processes were detected in QS structure covering the full production process. The intention is to ensure high quality in all aspects.
System maps, company standards and\or procedures for quality assurance and quality control are implemented for every process. All standards and procedures are developed in accordance with legislative and regulatory acts acting at the territory of Russian federation and consider world experience in engineering as well as knowledge of company business peculiarities. NIIK uses 67 standards describing the activities for each process.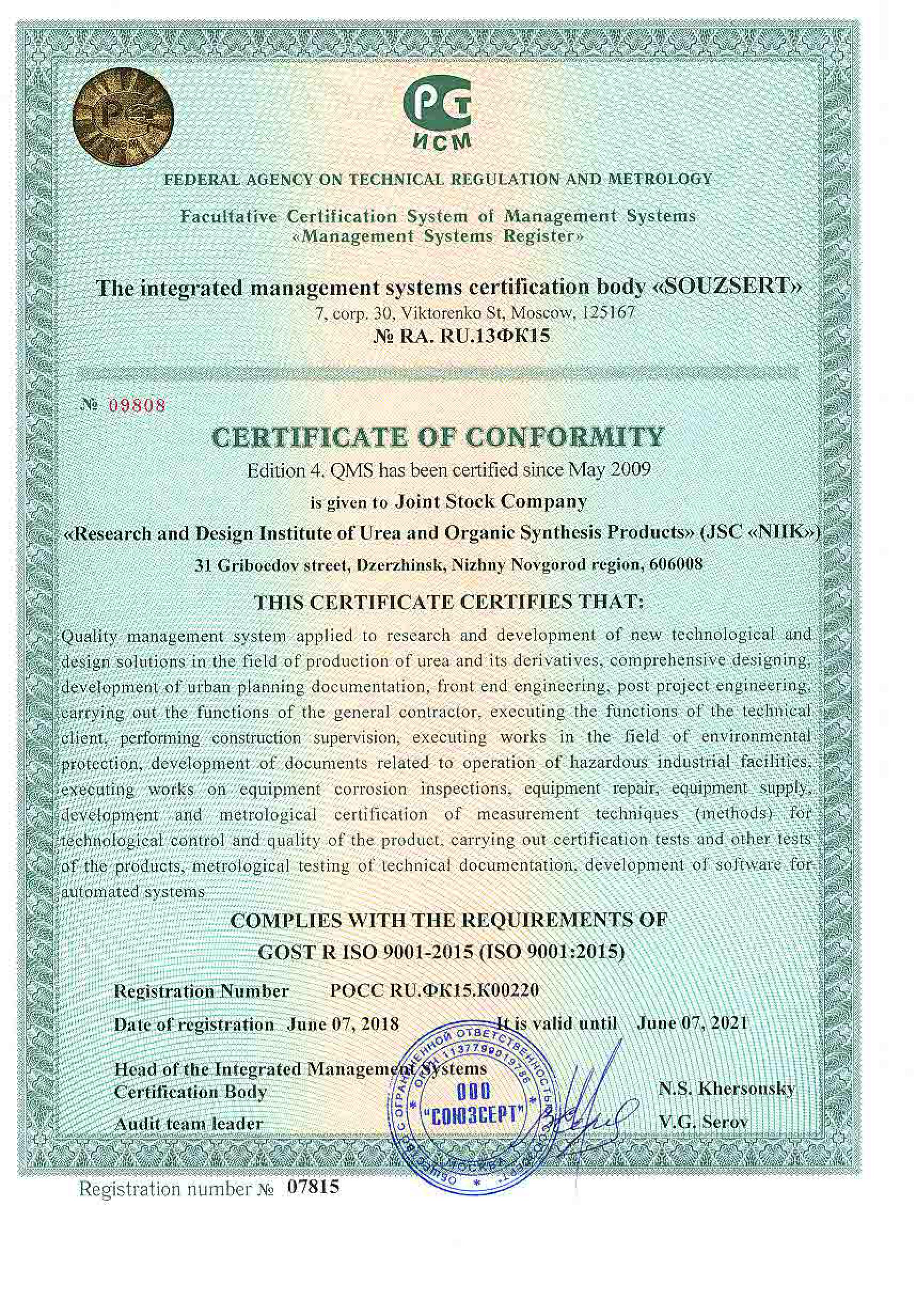 The effectiveness and application of Quality Management system is checked and assessed by the quality department.
The Quality System shall insure systematic control of all the process affecting the quality and implement the required preventive and corrective actions in case of deviations.
Our commitment to quality and total customer satisfaction is the responsibility of every employee and it is demonstrated by on-going management review as well as continual improvement based on customer feedback.
The Quality system covers every stage associated with product and service delivery as well as efficient monitoring of control and feedback processes, measurement procedures, management practice and resourcing solutions.
The Quality System obligates all employees to perform their tasks and activities meeting existing and expected demands of:
customers;
service and product users;
employees;
partners (suppliers, subcontractor suppliers etc);
administrative and supervising bodies
other interested parties
and increasing their satisfaction rate at every instance.
QM applicable documents describing QM system covers every step directed to the quality assurance.
QA system is evaluated at least once a year by the general management and corrective measures are accommodated if necessary.