Technologies for green field and brown field construction of urea plants and revamping concepts
Our scientific department has succeeded in developing three concepts for urea production units construction and modernization.
URECON 2006® — is an advanced total liquid recycle technology (TLP) successfully implemented for small capacity urea units. URECON 2006®- is a TLR technology improved based on NIIK´s vast experience. URECON 2006® comprises state of the art vessels with optimized hydrodynamics and high efficient heat and mass exchange. Based on URECON 2006® new small capacity urea units can be constructed and existing urea units can be revamped to utilize surplus ammonia.
Details on URECON-2006®:
URECON2006® is implemented for small-capacity urea units (references for 500 TPD)
Design work was performed for the unit with capacity 600 TPD
URECON2006® Can be used for construction of a new urea unit up to 1000 TPD
The energy efficiency of URECON2006® is a bit lower than of the CO2 stripping process: NH3 consumption– 567÷570 kg/t, CO2 consumption– 734÷750 kg/t, steam consumption – 0,8÷0,85 Gcal/t.
URECON2006® has been implemented for revamps of the existing urea units (references of the urea units with TLR)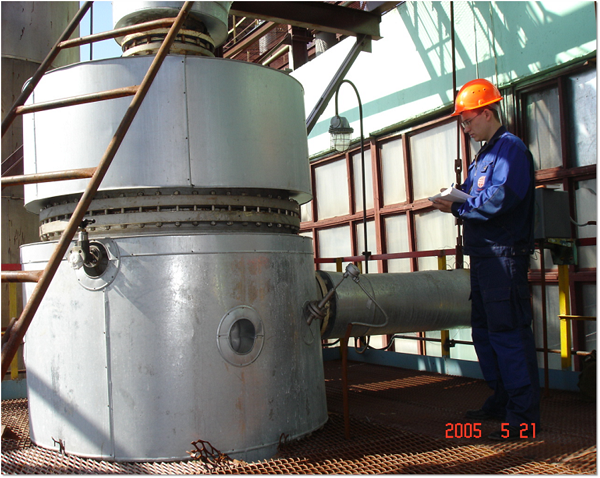 URECON 2007® — is an improved CO2 stripping process for urea units with capacity over 1000TPD. Proprietary submerged condenser improves efficiency of the synthesis section against the conventional CO2 stripping process. URECON 2007® is mostly a revamping concept. URECON 2007® increases capacity or a urea unit with conventional CO2 stripping process by 50%, and if MP section is added the capacity can be increased twofold (for example from 1000 TPD to 2000 TPD).
Details on URECON-2007®:
Due to most efficient operation of a synthesis section, the size of equipment is reduced, consequently reducing the investment cost
The most efficient way to use URECON 2007® is to use it for revamps of the existing urea units with CO2 stripping process.
Based on URECON 2007® detailed design for revamp of urea unit М-3 at Severodonetsky Azot, capacity enhancement to 1500 TPD has been developed.
URECON 2007® can be used for urea units up to 2000 TPD.
90 bar stripping technology.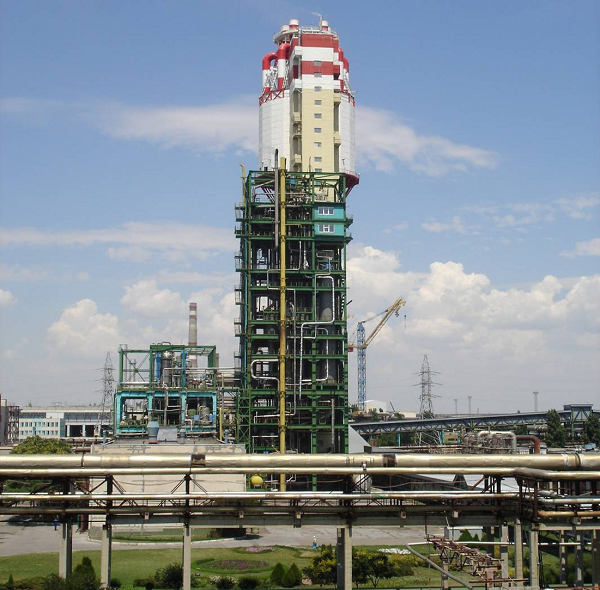 NIIK is continuously improving urea technologies. The world known urea technologies were the basis for development of a novel urea technology.
List of NIIK´s technologies has been completed with large scale urea technologies (over 2000 TPD) which is being actively promoted on the global market. The novel technology can be used for revamps of urea units with TLP. Capacity enhancement can achieve 60% plus energy saving (steam saving is 50%)
Details of 90 bar stripping:
Synthesis reactor under 200 Bar pressure is equipped with the set of internals including Vortex Mixer, Conversion Booster and Trays. Due to installation of the internals high conversion rate and high reactor yield are achieved.
Multi- stage separation of synthesis melt results in reduction of heat losses and distillation efficiency improvement.
CO2 stripping – distillation under 90 Bar pressure ensures efficient NH3 and CO2 stripping.
Submerged carbamate condenser under 90 Bar pressure ensures efficient recuperation of the process internal heat to generate 4 Bar steam.
Two-stage melt distillation (90 Bar and 3,5 Bar) results in equipment cost reduction against other processes.
NIIK has developed design of a urea unit, capacity 2000+ TPD which is the optimal capacity for the plants in Russia and FSU counties.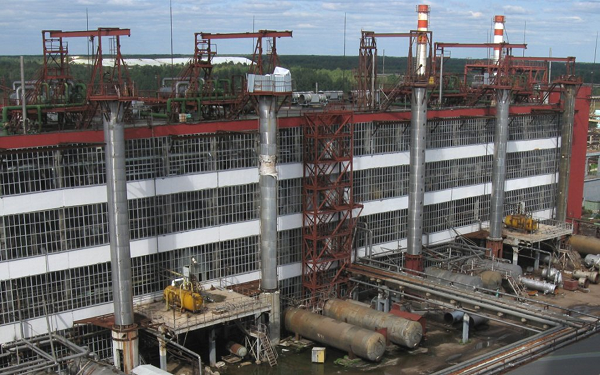 One of the main elements of the urea unit revamping concept developed by NIIK is a synthesis section modification, in particular – modification of a synthesis reactor since unreacted feedstock recycle and energy consumption significantly depend on efficient operation of this section.
The internals designed by NIIK consists of:
High- efficient Vortex Mixer;
Conversion Booster;
Mass- exchange Trays.
Lead time of the internals is three to six months (depending on the internals set), the internals are installed in the reactor within one week. The payback period of the internals is three to six months. The internals can be installed during a single stage of a urea unit revamp.
All the technologies of NIIK consider environmental aspects of urea production, special attention is paid to gas emissions and waste water treatment.