27.09.2018
Delegation of NIIK attended the 9th annual GPCA Fertilizers convention on 18-20 September, 2018 held in Muscat, Oman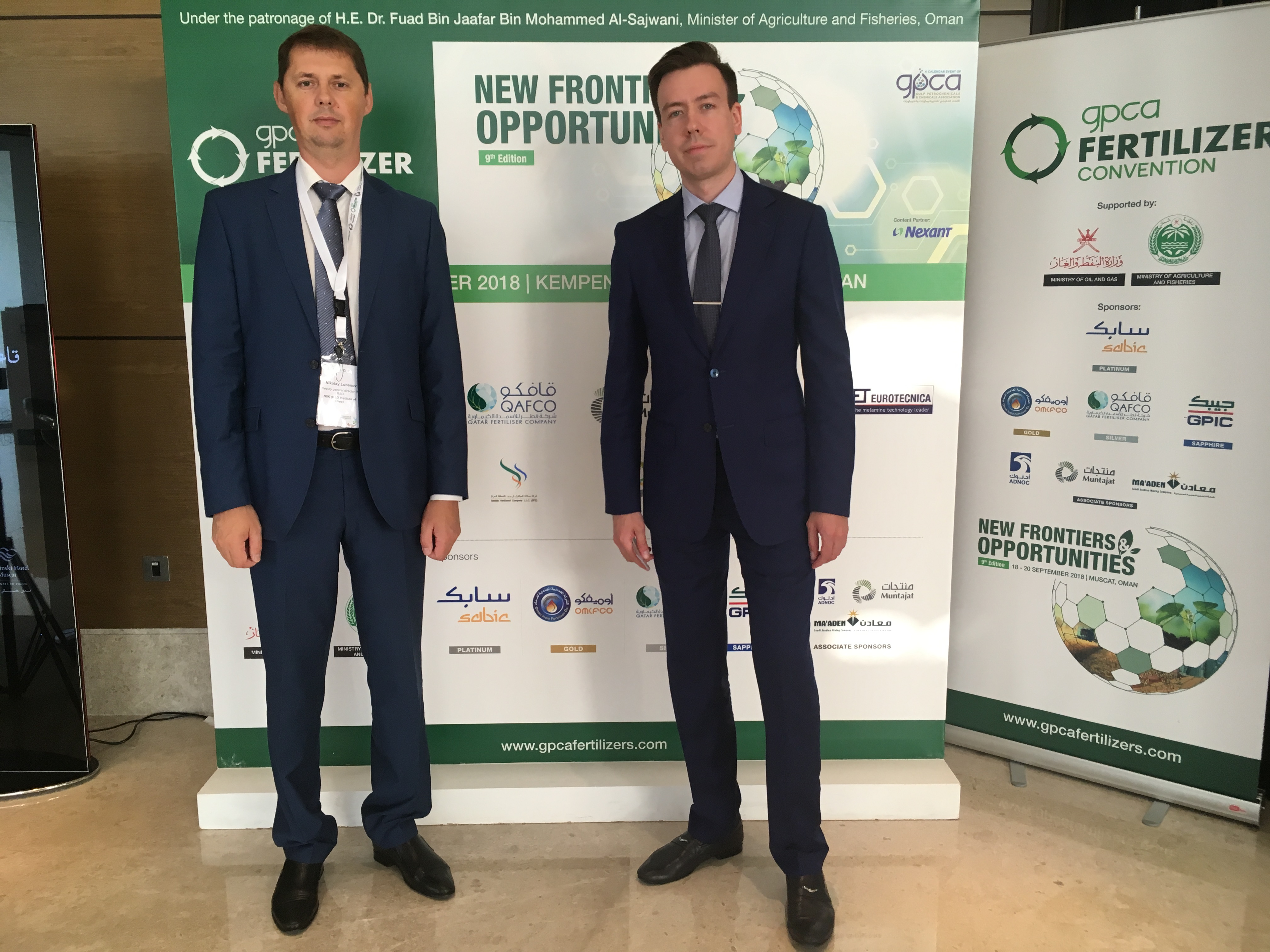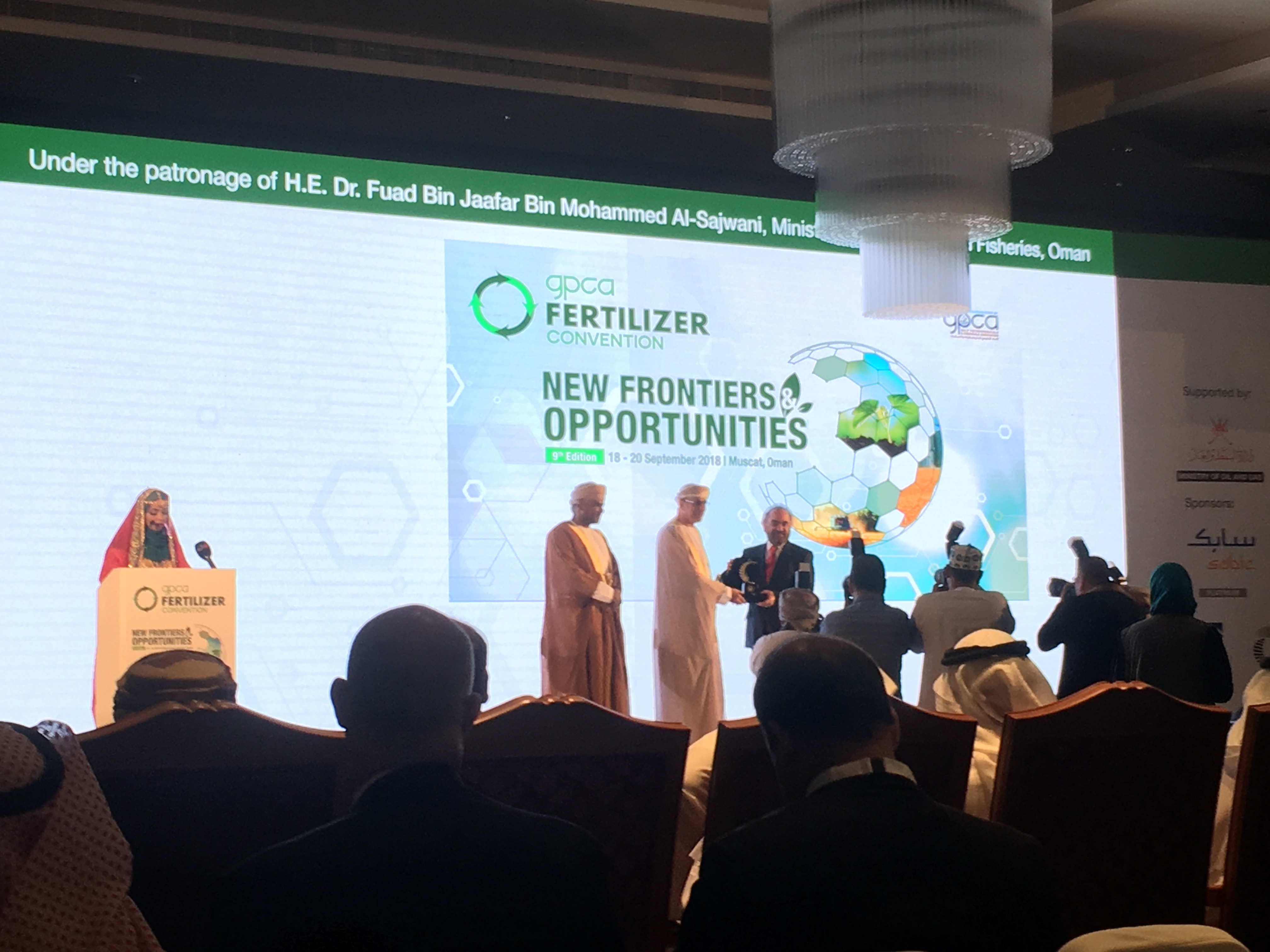 GPCA Fertilizers is the largest conference on fertilizers in the GCC region.
Annually this event becomes a place for meeting of manufacturers, research institutes, suppliers of technologies and services related to the production of fertilizers. The attendees share their companies experience, try to forecast the further development of both the fertilizer industry and the entire world agricultural industry and establish business contacts.
The 9th GPCA Fertilizer Convention was held under the patronage of H.E. Dr. Fuad Bin Jaafar Bin Mohammed Al-Sajwani, Minister of Agriculture and Fisheries of Oman.
This time NIIK was represented by Deputy General Director for Research and Development Mr. Nikolai Lobanov and international projects leader Mr. Anton Guzhev.
One of the most important topics for reports and subsequent discussions was a overview of the worldwide trend in the development of agriculture and fertilizer production, as well as food security. Ever-accelerating growth of the world population continuously increases the demand for fertilizers used in agriculture and poses a burden on natural resources and environment, leading to their depletion.
In this regard, the attendees tried to find solutions to such issues as: enhancing the efficiency of fertilizer's production processes and decreasing of effluents, increasing efficiency of the fertilizers themselves, rational use of natural resources and soils, food logistics (currently up to 30% of food products are disposed of before reaching consumers' tables), the world nutrition problems. Great attention is paid to the prospects of using prolonged-action fertilizers and complex fertilizers. These fertilizers allow to develop a separate composition for each specific type of soil and each specific type of crops, which allows to reduce fertilizer consumption and increase the efficiency of their use. Such fertilizers can be produced with help of the High-Speed Drum Granulator developed by JSC "NIIK".
The GPCA Fertilizer Convention attendees also assessed the situation on the markets of the main fertilizer consumers and export markets.
NIIK is a high-tech engineering company and annually participating in the GPCA Fertilizers conference, it offers its partners modern and effective solutions for production of urea, nitric acid, methanol, etc.
The representatives of the regional manufactures of nitrogen fertilizers attending the event were interested in our solutions in the field of modernization, as well as NIIK's services in conducting technological and corrosion tests and repairs of high-pressure equipment.
NIIK's delegates held many meetings with foreign fertilizer manufactures and discussed prospects for participation in new projects.
NIIK, being already a world-known brand in the field of nitrogen industry is ready to make its contribution to ensuring the global food security and rationalizing the use of natural resources. NIIK offers to its partners the innovative technologies allowing to enhance the operation efficiency, to reduce emissions to the environment and to produce fertilizers of reduced ecological footprint that are in high demand on the market.