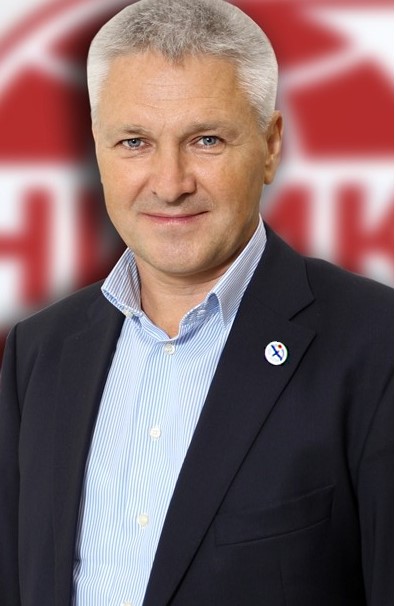 10/14/2020
We are pleased to announce the appointment of Igor Esin as General Director of NIIK company
Igor Esin has noted that NIIK is interested in increasing business efficiency, improving business processes and is ready to face new challenges. "Today' s dynamic business climate creates an imperative to review existing processes and approaches and make radical changes when it's needed," - Actually the company is undergoing transformation through company's processes reengineering to meet market and clients requirements. It is also focusing on strategic planning including IT-strategic direction for the next 5 years".
He mentioned that the company is creating a new effective path toward diversification of all business areas keeping the spotlight on mineral fertilizer industry development.
Igor Esin expressed his deep appreciation for the great contribution of Oleg Kostin to NIIK's development and his comprehensive approach to meet challenges. "Mr Kostin is a competent manager with extensive experience, who played an important role in company growth and successful implementation of large-scale construction projects. Now the company is gathering speed, so it is necessary to keep taking steps towards further development focusing on continuous improvements and innovation, implementation of new technologies and new tools for the design and construction. We will continue our collaboration - Oleg Kostin will take up the position of Deputy General Director for Construction ", said Igor Esin in conclusion.
Igor Esin has been a Chairman of the Board of Directors of NIIK since 1998. He is also a co-owner of several Russian successfully progressing companies. Igor Esin is a member of the non-profit partnership "The Club of Leaders for the Promotion of Business Initiatives ".
Igor Esin studied at the Moscow Aviation Institute. He was awarded with the Honorary Diploma of the Ministry of Industry and Trade of the Russian Federation for his personal contribution to the development of the chemical industry and long-term conscientious work.
Igor Esin expanded the Research Institute leading it to a world- known engineering and technological company with a complete range of design and engineering services and international cooperation activities. Currently NIIK is engaged in the grass-root construction and revamps of mineral fertilizer production plants in Russia and abroad.
NIIK was involved in construction of ammonia-urea -methanol complex in Mendeleevsk (Ammoni), two urea- ammonia plants in Cherepovets (Apatit), two urea plants in Veliky Novgorod (Acron) and Novomoskovsk (NAKAzot (EuroChem). It is currently participating in the project for construction of a urea plant at KuibyshevAzot, methanol plant at Shchekinoazot, methanol plant at Nizhnekamskneftekhim and ammonia-urea-melamine complex at Metafrax (Gubakha).
For more information, please contact us at
pr@niik.ru
,
PR Department, tel. (8313) 264968, (8313) 394900 ex. 2255