10/28/2011
On October, 24 Expocentre opened the 16th International Exhibition for the Chemical Science and Industry «KHIMIA-2011».
The event has been extended to 27 of October and our Institute took an active part in its work. This year the exhibition has brought together to Expocentre over 600 companies from 33 European countries. Approximately half of the exhibits were presented by Russian companies. Denis Manturov, Deputy Industry and Trade Minister emphasized that the significance of chemistry is rising year by year.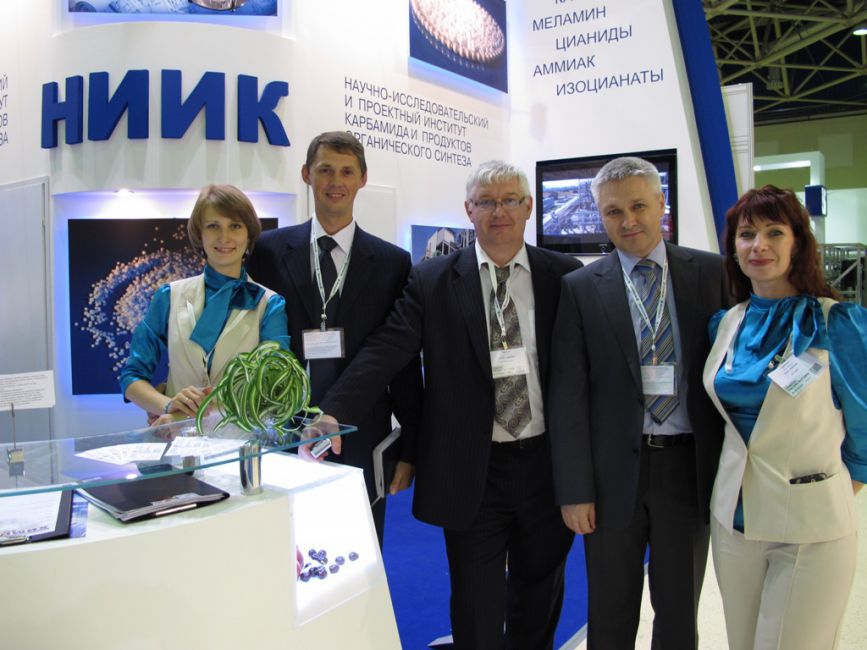 «Chemistry -2011» is held in a year, declared by United Nations International Year of Chemistry. JSC NIIK presented its products and services among the company-leaders: recent achievements in the field of engineering, research, technological development and demonstration, purchasing and equipment supply and delivery, managing and execution of grass root projects. The participants displayed also a wide range of latest technical and technological developments concerning modern software process tools which can be configured to automatically create project documentation issues or comments. The demonstration of our developments allowed attendees to see features and benefits of using NIIKs products.
An exclusive exhibition stand meant to attract the attention of visitors and to create the comfortable conditions for Business Meetings & Negotiations was prepared. The efforts have been proven to be very effective: created and produced in accordance with the corporate style stand was perfectly recognizable and attracted attention with its unusual design. The photopanels, indicating the milestones of JSC NIIKs activities were used, in particularly such large-scale projects as JSC Novomoskvsky Azot and SC Ahema were presented. The concept of corporate identity was traced in the unique corporate style uniform too. The visitors of the stand could receive all necessary information materials and get help with all the questions about the company. The NIIK exhibition team held intensive conversations with numerous regular and potential customers reinforcing a strong customer bond. The meetings organized during the exhibition brought together top business leaders and managers of such organization as «Sibur Нolding», «PhosAgro», «Evrochem», «JSC Gazprom Neftekhim Salavat», «Kujbishef Azot», «Togliatti Azot», «Severodonetskii Azot», «Minudobrenija», «Alvigo-M», «Schekino Azot», «Optimal Technology Center», «OSTCHEM Ukraina», «Novomoskovskii Azot», «KazAzot», as well as foreign companies «De Dietrich»(Germany), «OLMI»(Italy ), «Tubacex» (Austria) and others. Many questions were discussed among the participants. Some included: performance of the projects in the field of urea, melamine, chemistry, management systems, buildings, industrial safety, diagnostics, equipment and production process monitoring.