NIIK carries out environmental protection works as required by the RF Environmental Regulations (Federal Law on environmental protection), Town Planning documentation and legislative, methodical and normative documents.
Below are the main environmental activities:
А. grass root and revamping:
environmental impact assessment and preparation of environmental impact statements for every stage of document development cycle; 
developing appropriate list of measures preventing reducing environmental risks and exposures and rational use of natural resources during constructing and operating industrial units;
providing support when taking expertise review
B. existing facilities: 
working out drafts of standards for pollutant emission and discharge limits
working out drafts of standards for waste formation limits and their location, including hazard class calculation and certificate of waste execution. 
NIIK works out environmental protection documentation for fertilizer production plants, chemical and petrochemical industrial enterprises in Russian Federation and Commonwealth of Independent States.
The recent projects:
NevAzot, Nevinnomyssk, Russia - commissioning of melamine production unit;
PhosAgro,Cherepovets, Acron, Veliky Novgorod, Russia - commissioning of urea production units; 
Korund-Cyan, Dzerzhinsk, Russia - construction and modernization of cyanide production unit;
ShchekinoAzot, Shchekino, Russia - commissioning of hydrogen production unit;
NAK Azot (Novomoskovsk), NevAzot (Nevinnomyssk), Azot (Kemerovo), Salavat Neftekhim-remstroy (Salavat), Grodno Azot (Grodno), Azot (Cherkassy), Severodonetsk Azot Association (Severodonetsk) - modernization of existing urea production units.
At the present moment environmental impact assessment is being developed for the following projects: grass root ammonia –urea complex «Baltic urea plant» (Vistino), ammonia production units for PhosAgro, Cherepovets and Linde Azot (Togliatti).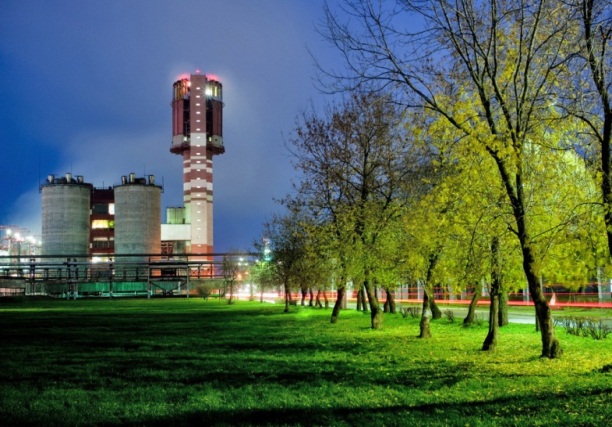 Preliminary materials for environmental impact assessment of complexes scheduled for construction were carried out for the following companies: Minudobreniya (Rossosh), ShchekinoAzot (Shchekino), National Chemical Company (Nahodka), Rosstroy (Novocherkassk).